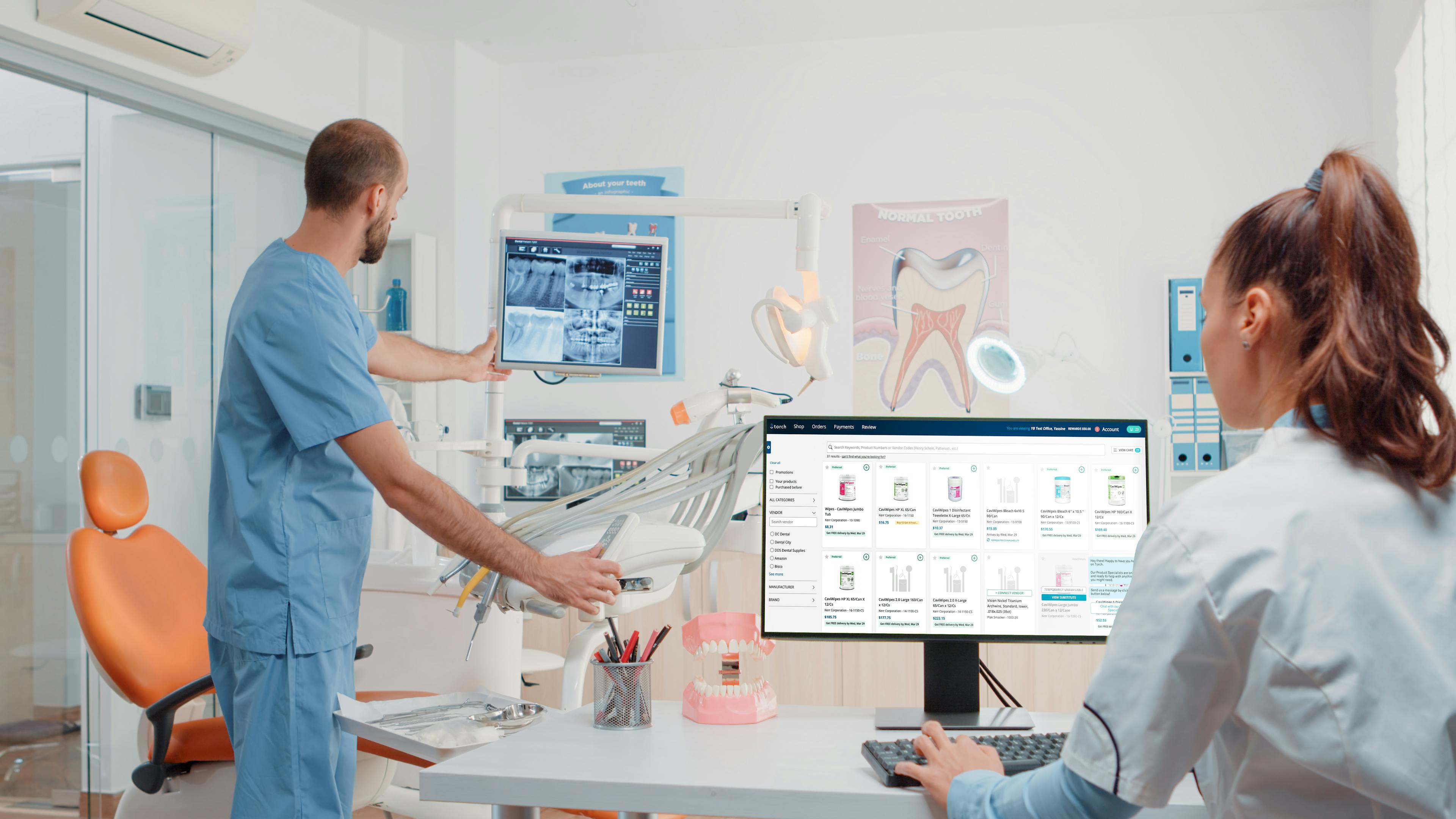 Why are dentists still paying full price for dental supplies when vendors get direct access to discounts? It's time to uncover the truth!
Reason #1: Dentists don't have price visibility to negotiate. Believe it or not, dentists are in the dark about their negotiation power with dental supply vendors. They're stuck assuming they have to pay the sticker price. How unfortunate!
Reason #2: Dentists don't have time for negotiations. Running a dental practice is no joke. Dentists barely have a moment to spare, let alone research vendors and haggle with them. Talk about a demanding job!
Reason #3: Dentists fear supplier strife. Dentists worry that negotiating will damage their relationship with suppliers. And why wouldn't they? Suppliers might ditch dentists who constantly push for a better deal. Is this true? And is it worth sacrificing savings?
But wait, there's more! Here's why dentists must put on their negotiating pants and take a leap of faith with their dental supply vendors:
Benefit #1: Huge savings! Dentists can slash costs by negotiating with vendors or working with platforms that do the work for them. We're talking about potential savings of up to 50% on supplies. That's no laughing matter!
Benefit #2: Bask in the glory of better service. Having a negotiating partner means dentists get VIP treatment for their supply ordering. It's simple - a centralized ordering platform partner goes the extra mile for dentists who have their back.
Benefit #3: Find simplicity and savings with an understanding of the supply ordering process. By being close to this process, dentists build strong ties with their employees and an understanding of where money may be being left on the table. Better prices, better service, and a constant stream of dependable supplies are just a few perks waiting to be claimed with all-in-one ordering.
Attention, dentists! Don't wait for another second. Negotiate immediately with your dental supply vendors to unlock mammoth savings, elevate your customer service, and cement unshakeable supplier connections.
But hey, we won't leave you empty-handed. Here are some essential tips to understand what money you may be leaving on the table with dental supply vendors:
Tip #1: Knowledge is power. Research prices and compare with fellow dentists. Get the upper hand with online price visibility tools.
Tip #2: Be willing to walk away. Don't settle for anything less than what you want. Other vendors will be there, ready to cater to your needs.
Tip #3: Keep it classy. Even when frustrated, always maintain politeness and professionalism. It's all about building bridges, not burning them.
Tip #4: Persistence pays off. If the first attempt falls flat, don't throw in the towel. Try again later. Nothing ventured, nothing gained!
Negotiating with dental supply vendors may be daunting, but the rewards are endless, so find a supply ordering partner that does the hard work for you and say hello to hefty savings and exceptional service. So don't be timid - speak up and ask for change from the status quo.
And as if that weren't enough, here are more money-saving tricks for dental supplies:
Trick #1: Bulk is beautiful. Purchase in bulk to unlock discounts no one can resist.
Trick #2: Do the research. Explore different vendors and understand your options before making a decision. The best deal and products may be just around the corner!
Trick #3: Get your promo game on. Unleash the power of promos (e.g., buy 3, get 1 free) and discounts offered by dental supply vendors. Money saved is money earned!
Trick #4: Embrace generics. Generic brands can be just as good as fancy name brands - at a fraction of the cost. It's a win-win!

By following these tips and tricks, dentists will conquer the cost of dental supplies. Lower overhead costs and increased profits are within reach! Get in touch with Torch today to learn how 2,000+ smart practices let us take on the burden of price negotiation so that they can save tons without the headache.