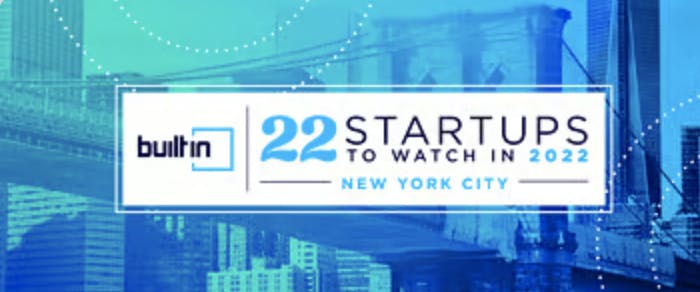 Metrics like funding numbers are just one of the many ways to evaluate a tech scene's vitality. And when it comes to looking at New York City from that perspective, there's no mistaking its clout — look no farther than some of the staggering figures brought in by just a handful of local players last year. Indeed, according to CB Insights, funding for New York startups clocked in at $55 billion last year, runner-up only to the storied powerhouse that is Silicon Valley.
But dollars tell just one part of the story. When it comes to the Big Apple, the landscape's cachet is, among other considerations, underscored by a breadth of innovation realized by the enterprising talents that undergird them. The outfits below are illustrative of that, with founders channeling their entrepreneurial zeal into manifold industries.  
A VR-driven resource for acquiring new job skills? Got it. A telehealth vet service? Yep. A fast-growing coffee purveyor? Check. Those and more are all here as inclusions in Built In NYC's latest compendium of must-watch tech dynamos. 
Some are making good on fledgling signs of promise with continued growth, while others are just starting to blaze a path. And still others simply resonate because they pierce through the noise with flexible and convenient solutions that seem particularly relevant right now. 
Below, take in the full list of Built In NYC's selection of can't-miss companies — all founded in or after 2016 — that are realizing their own unique vision of tech-imbued industriousness. 
What they do: Blank Street serves up coffee and food out of micro-retail spaces that pale in size to normal coffee shops, as well as carts. The company currently has a number of locations across Manhattan and Brooklyn. 
Year founded: 2020
Why we're watching: Wake up and smell the funding: Blank Street announced a $25 million Series A last October to help support its growth. "Blank Street is reimagining the way we interact with local commerce by connecting the digital and physical worlds," Warby Parker Co-founder Neil Blumenthal, who participated in the Tiger Global- and General Catalyst-led round, said in a statement.
What they do: Leveraging what it calls a "proprietary search platform," Chapter seeks to empower eligible individuals in their quest for Medicare plans, helping users discover suitable coverage while aiming to keep costs down.
Year founded: 2020
Why we're watching: Chapter began 2022 on a high note, announcing in January that it had obtained a $42 million Series B. The company plans to put the funding behind efforts such as hiring; in an interview with Cheddar, Chapter Co-founder and CEO Cobi Blumenfeld-Gantz said that the company is "hiring aggressively for the best talent we can."
What they do: Home repair and maintenance projects can be more formidable than fun. Humming Homes links users with dedicated "home coordinators" to secure professionals to get the job done. Currently the service operates in areas of New York, Connecticut and Florida.
Year founded: 2020
Why we're watching: Humming Homes' goal to stamp its presence into new geographies got a boost with its most recent round of funding, amounting to $5.6 million last October. "Humming Homes solves the problem of how difficult it is for most people to manage their most valuable asset: their home," Ian Sigalow of round-leading firm Greycroft said in a statement. 
What they do: Consumers can take advantage of Kafene's buy-now-pay-later model to make gradual payments on purchases such as furniture and electronics in a wallet-friendly fashion over a set period of time. 
Year founded: 2019
Why we're watching: Kafene brought in $75 million last November. "The company is solving the seemingly intractable challenge of profitably serving the underbanked … while helping its users build better credit profiles," said Wes Barton, managing partner at investor Third Prime, in a statement. That capital came on the heels of a $14 million Series A over the summer.
What they do: Lili seeks to alleviate the financial headaches associated with self-employment through a freelancer-focused banking app. It boasts tools for managing expenses, handling invoicing, paying taxes and other tasks. 
Year founded: 2019
Why we're watching: Last May, Lili — co-founded by Forbes "Next 1000" 2021 honoree Lilac Bar David  — announced a $55 million Series B. According to a release, the funding occurred "on the heels of its highest growth quarter to date." 
What they do: Launched by moms Sylvana Ward Durrett and Luisana Mendoza de Roccia, Maisonette is an ecommerce site offering a discerning selection of toys, clothing, home decor and other wares for babies, children and their families.
Year founded: 2017
Why we're watching: Maisonette got off to a strong 2021 with a $30 million Series B announced last February, which will be used to scale, invest in tech and take its offering abroad. "Our mission is to help modern families navigate the adventure of raising the next generation both through the products they buy and the content they consume," CEO Durrett said in a statement . 
What they do: MadHive — a 2022 Built In NYC "Best Midsize Company to Work For" — helps buyers navigate the maze that is programmatic advertising so they can make the most of their campaigns. MadHive focuses on media like connected TV and video. 
Year founded: 2016
Why we're watching: In addition to bolstering its digital ad clout through a $100 million partnership with consultancy SADA to deepen its work with Google Cloud, MadHive strengthened its own ranks internally with notable hires. The company brought on a new CMO, Pepsi and Epsilon alum Jeff Fagel, and a new CPO, Telaria vet Craig Berlingo, last year.
What they do: Don't sweat that wine spill. Using the company's Google Chrome extension, shoppers can sign up for Mulberry to protect purchases at brands like Houzz and Pier 1 Imports. Year-long coverage — applicable to wares such as electronics, furniture and appliances — is free, with the option to pay to secure longer terms. 
Year founded: 2018
Why we're watching: Mulberry announced a $22 million Series B last October, to be used for scaling and focusing on features like e-commerce integrations, according to a release. "We want to make product protection available to all consumers by offering affordable protection wherever they shop online and delivering a great experience from purchase to claim," Mulberry Co-founder and CEO Chinedu Eleanya — a former Forbes "30 Under 30" honoree — said in a statement.
What they do: Nayya looks to smooth out the oft-confounding process of benefits selection by utilizing data to guide individuals toward the options that suit their needs. Nayya also provides guidance on optimizing benefits after the fact.   
Year founded: 2019
Why we're watching: According to a year-end release recapping 2021, which included a $37 million Series B, Nayya's year-over-year revenue grew sevenfold. "Since launching Nayya, we've seen incredible growth in revenue and product adoption – and we're anticipating even deeper growth in 2022," Nayya Co-founder and CEO Sina Chehrazi said in the release.
What they do: Real estate projects have a lot of moving parts, so having a straightforward view into their progress and budget is important. That's the core goal behind Northspyre, which seeks to keep the project management process well-oiled through its digital platform.
Year founded: 2017
Why we're watching: According to a recent release announcing more than $30 billion in projects "facilitated," Northspyre — which announced a $7.5 million Series A in 2020 — highlighted its 2021 growth, expanding to new markets such as San Diego and Phoenix.
What they do: There are lots of nuances to navigate with logistics. Nuvocargo is focused on supporting companies with freight going between the U.S. and Mexico through a platform aiming to give customers a clearer window into the journey of their shipments.
Year founded: 2019
Why we're watching: Nuvocargo's year of fundraising didn't stop at the $12 million Series A nabbed last April. In December, the company announced that it had raised $20.5 million in new funding to invest in its platform and deepen the team. The company estimated total
What they do: Whether getting in a workout through daily live classes or one of thousands of pre-recorded sessions, obé Fitness offers a variety of instructor-led options. The company offers monthly, quarterly and annual memberships. 
Year founded: 2018
Why we're watching: When it comes to recent funding, obé isn't sweating, thanks to securing $15 million in funding last summer. "We're excited about the direction ahead of us and continuing to make fitness a part of peoples' lives everywhere," Co-founder and co-CEO Mark Mullett told Bloomberg.
What they do: Founded by former Vogue Head of Product Neha Singh, Obsess takes the typical e-commerce experience up a notch by leveraging virtual reality to create engaging, 3D virtual stores. Brands can also use AR to complement the IRL experience, as well as set up shop in the metaverse, using Obsess. 
Year founded: 2017
Why we're watching: The company's total funding clocks in at more than $13 million following its $10 million Series A notched last June. According to a release, the money will be put toward product development, powering growth and exploring categories like consumer packaged goods. 
What they do: With its tech, Order looks to merge strategic sourcing, managing vendors and invoicing into one platform. The company was known as Negotiatus until this January. 
Year founded: 2016
Why we're watching: When spreading the news about its recent rebrand, Order announced it had pulled in a $30 million Series B. Furthermore, headcount growth also appears to be on the horizon for the company. "At the beginning of 2021, we were a team of 55. A year later, we've doubled in size and are planning to continue that trajectory throughout 2022,"  Co-founder and CEO Zach Garippa recently told Built In NYC.
What they do: Pet owners in a pinch are in luck: Pawp gives them around-the-clock access to vets through its telehealth app at an approachable monthly price. Memberships also include a yearly sum to help pay the cost of an emergency vet visit.
Year founded: 2019
Why we're watching: Last May, Pawp fetched a $13 million Series A, to be used for scaling and staffing up. "We believe Pawp will transform the pet industry by eliminating the friction between the digital and physical worlds when it comes to accessing quality care for your pet," Zack Schildhorn, partner at round-leading Lux Capital, said in a statement.
What they do: Co-founded by Gen Z duo Max Baron and Dylan Diamond, Saturn helps high schoolers stay on top of their days. Users can share schedules, message friends, organize their to-dos and more with Saturn, which offers both web and mobile apps.  
Year founded: 2019
Why we're watching: Saturn landed $44 million in new funds last year, which will be directed toward product and engineering hiring. Notable investors included Uber CEO Dara Khosrowshahi and actor Robert Downey Jr.
What they do: Producing mushrooms in a restaurant or store? It's not the stuff of fancy. It's the work of Smallhold, whose automated technology allows users to grow a variety of different organic mushrooms within their own confines.
Year founded: 2017
Why we're watching: Everything's coming up roses — er, mushrooms — for the Brooklyn-based company, whose growing systems can be found in spots such as the Lower Eastside Girls Club. Forbes reported that Smallhold raked in a $25 million Series A last fall, with growth plans that include expanding to California.
What they do: By leveraging data, the Stellar Health platform seeks to help medical professionals improve the care they provide by guiding them to — and providing incentives for — specific actions and plans.
Year founded: 2018
Why we're watching: Last September, Stellar Health announced a $60 million-plus Series B. According to a release, the company intends to use the funds toward hiring and to support efforts such as engineering and product development. "We will continue to evolve our product in ways that will improve the healthcare experience for providers and patients alike," Co-founder and CEO Michael Meng said in a statement.
What they do: Torch aims to equip dental practices with the ability to source supplies through a consolidated digital platform, streamlining the oft-disjointed process of ordering through different channels. 
Year founded: 2018
Why we're watching: The startup counts Bessemer Venture Partners and Felicis Ventures among its investors, according to the company's website.  As of this writing, the company's currently hiring for a handful of roles, including on its sales and engineering teams. 
What they do: Tech can redefine the conventional learning experience in all sorts of ways, as TRANSFR underscores. The company employs virtual reality to train individuals with the skills needed to excel in industries such as manufacturing and automotive. 
Year founded: 2017
Why we're watching: TRANSFR garnered a $12 million Series A in November 2020, as TechCrunch reported, to expand its VR offerings. "Before Covid, people would say we're such good Samaritans for working on workforce development. In a post-Covid world, people say that we're essential," Founder and CEO Bharanidharan Rajakumar told TechCrunch. 
What they do: Headaches can abound when it comes to getting a handle on a mortgage. Homeowners can use the Valon platform for payments, to stay up to date on their accounts and to monitor the headway they're making on their loan.
Year founded: 2019
Why we're watching: After a $50 million Series A last February, the company scored $43.9 million in new funding last November. According to a release, the latest funding will go toward efforts such as hiring and "potential future strategic acquisitions."
What they do: Creating a slick app is all for naught if it's buggy. Waldo helps teams avoid that through a no-code platform where users upload apps for Waldo to sniff out potential bugs, notifying teams when fixes are required. According to Waldo's website, it's helped the teams behind apps such as Lemonade, Truebill, mojo and AllTrails. 
Year founded: 2018
Why we're watching: The Brooklyn-based company just raised a $15m Series A from the likes of Insight Partners, Matrix Partners and First Round Capital. Waldo also recently introduced more features to the product with the debut of Waldo V2. Looking ahead, co-founder and CTO Laurent Sigal told Built In NYC: "We will be watching and doing our part in advancing the impact of no-code tools and platforms."